Pestec Receives Prestitious IPM Innovator Award From California Department Of Pesticide Regulation EcoWise 2008
News
Ecowise News
EcoWise Certified Launches Exciting New Online Course!
California Pest Management Professionals can now be certified as EcoWise IPM Practitioners through an Online Course. The course also provides IPM Training and 2 hours of IPM CEUs for Applicators, Field Representatives, and Pest Control Operators.
Pest Management Companies can find online everything they need to apply for company or branch certification, including instructions, documents, and the EcoWise Certified Handbook.

The Online Course can be found on the BIRC website at
www.birc.org/EcoWiseCertified.htm

If you have questions, contact EcoWise Certified Program Manager William Quarles at birc@igc.org.


ATCO Owner Richard Estrada Honored by Marin County, Receives 2008 IPM Award
ATCO Owner and EcoWise Certified Practitioner Richard Estrada received a 2008 IPM Award from the Marin County Board of Supervisors and the Marin County Integrated Pest Management Commission at a ceremony on February 1, 2009. The award was presented to Richard by Supervisor Susan Adams.

In a press release issued the day of the event, the County stated that Mr. Estrada was being singled out for recognition because his company and employees were the first, and continue to be the only EcoWise Certified structural pest control company in Marin. The County noted that ATCO has contracted with Marin County for years and implemented the IPM program at the County Civic Center.

Pestec Receives Prestitious IPM Innovator Award from California Department of Pesticide Regulation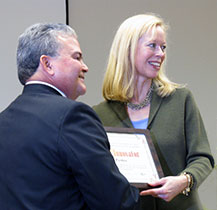 EcoWise Certified Service Provider Pestec was honored with a 2008 IPM Innovator Award by the Department of Pesticide Regulation. In a ceremony held January 22, 2009, DPR Director Mary Ann Warmerdam presented the award to Pestec CEO Luis Agurto, Sr, as three generations of Agurtos, including EcoWise Certified IPM practitioners Luis, Jr. and Carlos looked on. Assemblymember Fiona Ma was on hand to also recognize Pestec for its many years of quality service to San Francisco.

A family-owned business, Pestec has been an innovator since it opened in 1985. The company focuses on prevention and nonchemical strategies first, and as a last resort, pesticides that pose less of a risk to public health and the environment. In a Press Release issued the day of the event, Director Warmerdam said "This year's IPM Innovators are role models for change from traditional pest control to a combination of strategies that reduce or eliminate toxic pesticides."

EcoWise Program Manager Ted Shapas was on hand to congratulate the Agurtos and snap a few photos. Last year Ted received the same award on behalf of EcoWise. The Agurtos were among the first EcoWise Certified service providers & Pestec was the first company to be certified.

EcoWise Certified congratulates Pestec and the Agurto family for receiving this well-deserved recognition.


EcoWise Certifies 3 Team Two Offices in Southern California

Congratulations to the Team Two branches in Corona, Duarte and San Diego, which recently became EcoWise Certified Service Providers. After attending the EcoWise orientation in Sacramento in February 2008, Team Two Vice President Bryan Houtchens and 3 Team Two staff qualified as EcoWise Certified Practitioners. Bryan.put the company on a fast track to certification, and completed all requirements in March.

EcoWise IPM Contracting Tool Kit Available Now The EcoWise IPM Contracting Tool Kit will help you develop a successful structural IPM program and procure professional structural IPM services. Funded by a grant from the US Department of Agriculture, the Took Kit includes the EcoWise IPM Process, sample contracts and other helpful resources.

EcoWise Certified Service Provider Appointed to Structural Pest Control Board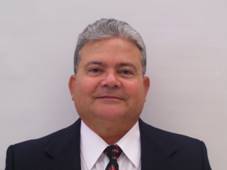 Luis Agurto, Sr., owner of Pestec, the first company certified as an EcoWise Certified Service Provider, has been appointed by Governor Schwarzenegger to the Structural Pest Control Board. Mr. Agurto brings to this new position more than twenty years of experience providing Integrated Pest Management services to public and private sector clients throughout the Bay Area. EcoWise Certified extends congratulations to Luis for this well-deserved honor.

EcoWise Certified Receives Prestigious IPM Innovator Award from California Department of Pesticide Regulation On January 17th, the Department of Pesticide Regulation presented EcoWise Certified with a 2007 IPM Innovator Award at their annual award ceremony in the California Environmental Protection Agency headquarters in Sacramento. The IPM Innovator Awards recognize organizations that pioneer problem-solving approaches toward pest management through their use of least-toxic practices to increase benefits and reduce risk. EcoWise Certified is proud to join the more than 100 outstanding public and private sector organizations that have been recognized since the program was established in 1994.

EcoWise Certified Manager, Ted Shapas, accepted the award from DPR Director, Mary-Ann Warmerdam. As evidence of the State's commitment to advancing IPM, California Environmental Protection Agency Secretary Linda Adams and California Department of Food and Agriculture Secretary A.G. Kawamura attended to express their agencies' support and offer congratulations.
---
IPM in the News
Going Green Brings in Business for Spectrum Pest Control August 1, 2008, PMP Buzz Online eNewsletter
This interesting post describes a PCOs IPM practice and notes the increase in business he experienced following publication of an article in his local newspaper about his approach to pest control.

Original URL: https://www.ecowisecertified.org/news.html