Richmond Confidential Coming To A Bed Near You Richmond Confidential 2010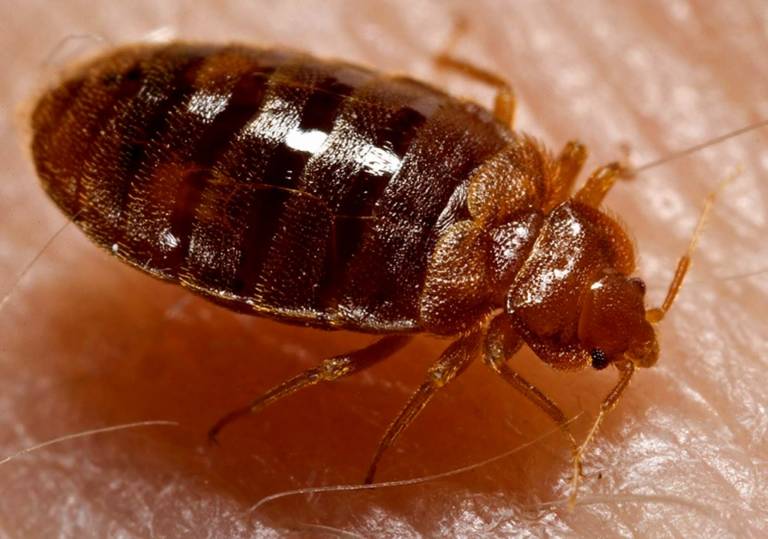 Halloween is over, but that doesn't mean blood-sucking creatures that come out at night should be forgotten. Bedbugs are everywhere–from luxury hotels to movie theaters to dorm rooms–and no one is immune.

"My mother has them at her house," said Patricia Negrete at a recent town hall meeting in Concord organized by the county's Bedbug Taskforce to talk about the bedbug problem in the county.

Negrete said she's afraid to go to her mother's house for fear that the bugs would come home with her. She worries that the chemicals her mother has used to fight them might be toxic for her son.

After World War II, bedbugs were largely wiped out in the US, but after a forty-year absence, they're staging a serious comeback. Widespread infestations in New York City and throughout the Midwest have swept headlines, and now Contra Costa County is bracing for its own battle with bedbugs.

Luis Agurto, an exterminator from Antioch, said the relationship literally goes back to the days of cavemen, when parasitic bat bugs likely adapted to feed off their human roommates.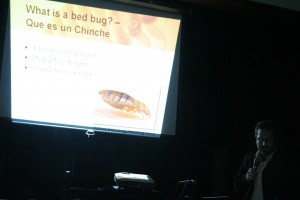 Since then, the bugs have hitched rides with their human hosts, spreading across the world.

Bed bugs are nocturnal. When the bugs hatch, they seek out carbon dioxide exhaled by their sleeping victims. They bite their victim and eat their blood, gorging themselves and stretching out their skins and growing larger. Then they hide, awakening later to shed their skins. The bugs repeat the process four or five times until they reach full adult size, and start breeding.

The bugs breed quickly. If left alone, two bugs can become 30,000 over the course of six months, said Agurto. Aside from their virility, it's their unique reproductive habits that make them such efficient infesters.

Bedbugs reproduce through a process called traumatic insemination. It's exactly what it sounds like: The male bedbug pierces the female's exoskeleton with his penis, injecting sperm through the wound.

The effects of this are twofold, said Agurto. It impregnates the female, but it also sends the female scurrying to get away from the male to lay her eggs. Through this process bedbugs spread, finding new places to roost and new sources of food.

After eons of putting up with bedbugs, a new weapon came on the market to tip the odds: dichlorodiphenyltrichloroethane, or DDT. DDT effectively killed the bugs, and was used widely. "It was very cheap, and everybody had it," said Agurto, "You could buy it at the store and mom was spraying the room while the kids were sleeping. They treated the soldiers." But bedbugs adapted quickly, and DDT became increasingly ineffective.

"Within ten years, there was already demonstrated resistance to DDT," said Agurto. New classes of chemical insecticides were developed and deployed, only to be replaced by yet newer chemicals when the old ones failed.

"It was chemical warfare," said Agurto.

Eventually, bug fighting reached a tipping point, and bedbugs largely disappeared.

"As we got rid of the bedbugs, the intensity of the problem subsided," he said. "We stopped developing the pesticides that killed them."

For forty years the bugs were pretty much gone, but when their numbers began increasing ten years ago, most strains of the bugs were immune to all of the chemicals available. Without a market for bedbug killers, chemical developers had stopped researching new agents to kill the bugs.

Now, Agurto said, it will take hundreds of millions of dollars and up to ten years for new insecticide agents to be developed and made available.

The county doesn't have a method to track rates of infestation, but they've assembled a Bedbug Taskforce to figure out how to address the problem. Tanya Drlik, a taskforce member, said that she's seen a definite uptick in calls in the last few months.

The best way to deal with bedbugs, of course, is to avoid getting them in the first place. But after decades of complacency, Americans are in the dark when it comes to bedbugs.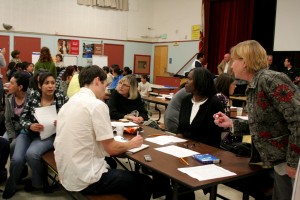 "Fifty years ago people really did know what bedbugs looked like. They knew where to look for them and what kind of precautions to take," said Drlik.

She said the best way to guard against the bugs is to avoid second hand furniture, especially mattresses on the street, and to know the warning signs.

Aside from seeing the bugs themselves—they are flea-sized, red-brown, round and flat—small red bites on skin are one sign of their presence. As they grow, they leave behind molted skins and rust-colored spots on bed sheets and furniture, excreted bits of their blood meals.

Once you get bedbugs, they are really tough to get rid of.

"There's nothing available to the consumer that works," Tanya Drlik said of the host of insecticides and bug bombs commonly available. In fact, the Bedbug Taskforce member said that chemical pesticides are likely to make the problem worse.

"We recommend that you don't go out with a can of Raid and start spraying it everywhere," Drlik said.

Instead of killing the bugs, chemical sprays and bug bombs only push the bugs into other rooms, she said, and can come with serious health effects.

Bedbugs don't transmit disease, but their bites cause itchy irritation in most people. They disrupt sleep, and rooting them out can be maddening. All this, coupled with the stigma and social isolation that comes with the bugs can cause severe stress, Drlik said.

Drlik recommends hiring a professional because they are so hard to find and truly eradicate.

Agurto's company, Pestec, uses a green approach to kill bedbugs. One tactic is to heat up the infested rooms with industrial heaters, killing off their eggs.

Because the bugs are tiny and great at hiding, they are much harder to find by sight. So Pestec also employs a couple of unlikely allies: Beagles. Think drug dogs, only these ones are trained to sniff out bugs. The dogs can search homes far more efficiently than people because they don't have to see the bugs to find them.

But professionals are expensive. Agurto said that it costs thousands of dollars to treat a house or apartment.

He said the best household tool in the fight against bedbugs is basic: soapy water. "A little bit of Dawn and water in a spray bottle, you'll be surprised how well it works," he told attendees at the meeting.

He added that drying clothes and bed linens for 20 minutes on the highest heat setting kills bedbugs and their eggs. A vacuum can suck up bugs and eggs, then the vacuum bag should be sealed in a plastic bag before being tossed.

James Suchy studied bedbugs at UC Berkeley, and now works for Alameda County Vector Control, an agency that aims to curb the spread of pests.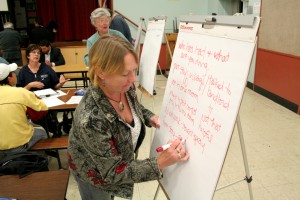 He said that to fight the bugs, it's important to understand the human factors that contribute to the spread. The key is finding a way to effectively teach people about the bugs in a number of languages, and cultivating cooperation between landlords and tenants, he said.

"It requires an extremely coordinated effort, and a lot of communication."

Without this, the bugs will continue to spread, possibly reaching the levels they maintained more than fifty years ago.

"At the present rate, if public health departments don't come up with a clear course of action for how they're going to deal with it, it's not going to be solved," he said, "It's going to get far worse."

Bottom line: It's only a matter of time until they crawl into your bed. Sweet dreams.

Original URL: https://richmondconfidential.org/2010/11/05/coming-to-a-bed-near-you/